The Advantages and Disadvantages of Ductless Air Conditioners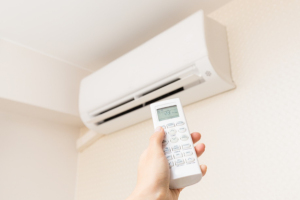 Are you thinking about having an air conditioner installed in your home? If so, you might not realize that there is more than just one type of air conditioning system available. In addition to central air conditioning, there are window air conditioning units, heat pumps, and ductless air conditioners, to name just a few options.
In this post, we'll discuss the advantages of ductless air conditioners. Hopefully, this will help you determine whether or not a ductless air conditioner is the right choice for your purposes.
Here are the advantages and disadvantages of ductless air conditioners.
Advantages
1. Easy to Install
One of the nice things about ductless air conditioners is that, compared to central air conditioners, they are exceedingly easy to install. Also, they do not need ducts in order to operate, ductless air conditioners can simply be placed in any part of your walls that you would like them to be placed.
Air conditioner specialists at Lifeline Plumbing, Heating, and Cooling can finish the process in just a few hours, needing only to drill some holes and mount some equipment.
2. Very Quiet
Overall, ductless air conditioners produce very little noise, especially on the inside of homes. This makes them a superior alternative to window AC units (which produce a great deal of noise inside of your home).
The outdoor condenser component of a ductless air conditioner will still make noise, but the amount of noise it makes pales in comparison to a condenser from a central air conditioning unit.
3. Allow for Different Temperatures in Different Rooms
Do you have a room in your home which is always substantially hotter or colder than the other rooms in your home? If so, ductless air conditioners could be of great use to you.
A ductless air conditioner is designed to provide air regulation to just one room. This means that, in order to cover your entire house, you'll need to install a variety of ductless air conditioner. The result of this? The ability to set different temperatures in every different room in your house.
4. Excellent Energy Efficiency
When compared to ducted air conditioners, ductless air conditioners possess terrific energy efficiency. In fact, it has been found that ductless air conditioners reduce energy costs by as much as 30%.
Since ductless air conditioners don't need ducts, they leak very little air as it's being transferred from the condenser to the blower. This results in very little wasted energy overall.
Disadvantages
1. Can be Expensive
Perhaps the biggest drawback of ductless air conditioners is that they tend to range on the expensive side.
On a unit-to-unit basis, they are substantially more expensive than window ACs. When compared to central air conditioning, because several ductless air conditioners are required in order to accommodate an entire house, ductless air conditioners are typically more expensive.
2. Can Disturb the Aesthetic of Your Home
Another reason that you might choose not to install ductless air conditioners is that you think they will upset the aesthetic of your home. After all, these air conditioners require that big, bulky blowers be mounted on the walls of your home. They can be a little unsightly.
However, in most cases, homeowners report that these units eventually just become part of the home's atmosphere. Eventually, they'll just start to blend in with the other objects in your home. 
Looking to Install Ductless Air Conditioners in Your Home?
What do you think? Is a ductless air conditioner right for you? If so, you'll likely need a professional air conditioning installation company to help you install it. Do you live in the Elgin, Schaumburg or Aurora areas? Lifeline Plumbing, Heating, and Cooling has you covered.
Our team of seasoned installers are experienced in the installation of ductless air conditioners, and can provide quick service.
Contact us at Lifeline Plumbing, Heating and Cooling today to request an estimate.
[searchandfilter taxonomies="search" submit_label="search" search_placeholder="Search Blog"]