Winter Furnace Maintenance Tips
During cold winter nights, your heating, ventilation, (HVAC) system becomes the most valuable equipment in your home. However, if it is running poorly, that means less comfort and higher energy bills for homeowners. Heating your home and producing hot water are generally two of the largest winter energy expenses for any homeowner. Maintaining your heating system will ensure your home heating bill remains as reasonable as possible by supporting your HVAC system and keeping it running properly.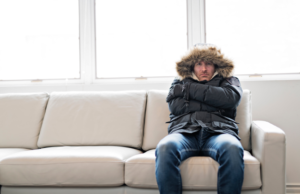 If you have not done so already, complete these tips ASAP to ensure your HVAC system is operating efficiently throughout the winter.
Change the Air Filter and Clean the Vents
Changing the air filter every month is one of the most important things you can do to support your HVAC
system. This is also one of the easiest. Your filter should be checked every month and replaced if it is dirty or clogged. Filters should be replaced at the very least every three months — no matter what. Keep up with this simple task by choosing a regular day to check the filter, such as the first or last day of the month.
The same day you replace your filter, make a point to also vacuum the air vents in your home. This keeps them clean and allows warm air to flow freely, improving temperature regulation throughout the home.
Yearly service of your Furnace system guarantees it runs properly. It really is important that Homeowners have their HVAC system inspected in the fall to best prepare it for the demands of winter.
If Your HVAC System is Ancient, Replace It
Replacing your home's HVAC system is an expensive suggestion, however if your system is old and inefficient, the added comfort and financial benefits of a new system can be very substantial. If your system is more than 10 years old, ask a service technician's opinion on the longevity of your system. According to the U.S. Department of Energy, replacing it with a new high-efficiency model could reduce your home's annual energy bill by as much as 20 to 40 percent.
Sufficiently Insulate the Attic
One of the easiest ways to help your HVAC system operate at peak performance is to lighten its work load.
Insulating your home's attic keeps warm air in the home and prevents it from escaping outside. This allows your HVAC system to do less yet still maintain your home's proper temperature. Per EnergyStar.gov, a simple visual test can determine whether your home's attic is properly insulated. According to their
recommendation, insulation in the attic should be high enough to obstruct the view of the floor joints.
Install a Programmable Thermostat
The right temperature inside a home depends largely on who is there at the time. When no one is in the home, the right temperature can be lower than the temperature when people are in your house. However, many homeowners fail to adjust their thermostats when they leave their home because it's too much work, they forget, or they don't want to return to a cold home. Having a programmable thermostat allows you to set the temperature for when you are in your home and when you are away.
We Service and Repair All Makes & Models