About Lifeline Plumbing, Heating & Cooling
Lifeline Plumbing, Heating & Cooling offers residential and commercial plumbing, heating, and air conditioning services throughout all of the Chicagoland area. As a one-stop shop to home comfort and convenience, we aim to deliver customer satisfaction and high-quality workmanship on every job we complete, no matter how large or small.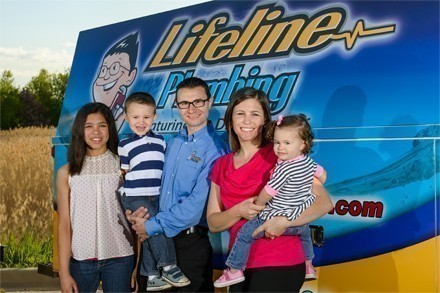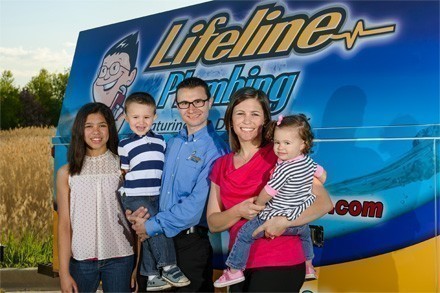 Founded in 2010 in Elgin, Illinois, Lifeline Plumbing, Heating, and Cooling was started as a husband-and-wife team. Gradually, over time, our team started to take on new members, adding only the most skilled and knowledgeable individuals in the plumbing, heating, and cooling industries. Today, our company has over 20 services trucks, all of which are equipped to handle a variety of plumbing, heating, and cooling tasks. Working 24/7 365 days of the year, we will do everything in our power to satisfy customers all over the Chicagoland area. We have Christian values and believe in providing- honest service, our best workmanship and the best prices.
The President of Lifeline
My name is Tyler Diciolla, I am the president of Lifeline Plumbing, Heating, and Cooling, I have a beautiful wife and three wonderful children. I have built my life and my business on a foundation of family, values, and community. I've been working in the industry for over 15 years, I am licensed in HVAC, plumbing, and cross connection inspection. This work is not only my profession, but my passion. My primary goal for my company is to bring 100% satisfaction to every customer we serve. I aim to achieve this through hard work, honest communication, and a deep sense of respect for every one of our customers.
Licensed, Insured, and Skilled Technicians
Licensed, bonded, and insured, our technicians are full-time employees with a desire to succeed in the industry. Our technicians are constantly evolving, keeping up with industry standards by participating in over 50 hours of training each year. We are problem solvers who enjoy providing quick and thorough services, regardless of whether we are working on a commercial or residential property. Always dressed professionally, our technicians respond promptly to all service calls, wearing clean uniforms, boot covers, black belts, and black gloves. Our team can work around your schedule to complete your project on your time.
A Fully Credentialed Plumbing, Heating and Cooling Service
Lifeline is backed by a top-A rated insurance company. We possess licenses with the EPA, OSHA, the Illinois Department of Public Health, plus all of the municipalities we serve. In addition to being fully licensed, insured, and bonded, we are also the recipient of numerous prestigious awards in our industry. Not only are we a Better Business Bureau accredited company, we also hold a RPZ (Reduced Pressure Zone) certification as well as a Lead-Safe EPA certification. We have also received an Angie's List Super Service Award.
We truly value our customers. We understand that you work hard for your money, which is why we stand behind our work with a comprehensive satisfaction guarantee on all the work and products that we install/service. We offer upfront pricing so that you never to guess what your cost is going to be when we finish at your home or business. Customer satisfaction is our goal and that is why we currently have over 1,500 – 5 Star reviews on sites such as Google, Yelp, and the BBB.
High-quality Plumbing, Heating and AC Services at a Fair Price
Our customers continue to come back to Lifeline because we offer an excellent value at a fair price. There is no secret formula for success. We are passionate about customer service and work hard to deliver positive results. Whether you need a new sewer line installed, a heat pump or just need someone to maintain your heating and air conditioning Contact Lifeline Plumbing, Heating & Cooling today for all of your plumbing, heating, and air conditioning needs!
The Elgin plumbing, heating and air conditioning experts at Lifeline Plumbing, Heating & Cooling offer quality repair, installation and maintenance services for your plumbing and HVAC systems.