About Lifeline Plumbing, Heating & Cooling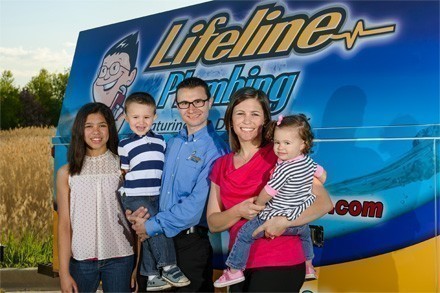 The Elgin area is subject to extreme temperatures and unpredictable weather. It often seems as though we oscillate from too hot to too cold, from flooding to drought conditions. This can present challenges to our customers who want to maximize the comfort of their homes without breaking the bank. When it comes to hiring a company to perform work at your home, you need to find a courteous, trustworthy, and customer–service oriented company who can deliver excellent services and products. Lifeline Plumbing, Heating & Cooling offers comprehensive plumbing, heating, and air conditioning services throughout the Elgin area, from AC installation and replacement to repair and maintenance, residential and commercial. As a one-stop shop to home comfort and convenience, we aim to deliver customer satisfaction and high quality workmanship on every job we do, no matter how large or small.
Why Hire our Professional Plumbing and HVAC Technician?
 Our technicians are highly qualified individuals with a desire to succeed in the industry. They are problem solvers who enjoy providing efficient and thorough services to homeowners and business owners throughout our service area. They respond promptly to your service call, wearing clean uniforms, boot covers, and black belts and gloves. They are licensed, bonded, and insured so that your home is protected in the event of an accident. We are flexible and can work around your schedule so that we can complete jobs before and after work, and you don't have to worry about being charged extra for work completed on nights and weekends.
What is Unique about Lifeline Plumbing, Heating & Cooling?
We truly value our Elgin customers. We also understand that you work hard for your money, which is why we stand behind our work with a comprehensive satisfaction guarantee on all work and products that we install and service. We also offer upfront pricing so that you never to guess what the total cost is going to be. We are the recipient of numerous prestigious awards in our industry, from being a Better Business Bureau accredited company to Angie's List Super Service Award. We also carry RPZ (Reduced Pressure Zone) Certification and a Lead–Safe EPA Certification. We are the only hot water jetter in the area, and we also offer special drain additives that can assist your sewer system. We even offer premium sump and ejector pumps.
Plumbing, Heating and AC Services At a Great Price
Customers continue to come back to us because we offer fair prices and excellent value. There's no secret formula for success. We are passionate about customer service and we work hard to deliver results for our customers. You can entrust us with the future comfort and convenience of your home, whether it's a new sewer line installation or heat pump maintenance. 
Contact Lifeline Plumbing, Heating & Cooling, Heating & Cooling
 today for all of your heating, air conditioning and plumbing needs in Elgin.
The Elgin plumbing, heating and air conditioning experts at Lifeline Plumbing, Heating & Cooling offer quality repair, installation and maintenance services for your plumbing and HVAC systems.

"
Sewer backup at 11pm!! They responded quickly, on a midnight call, cleared the blockage, and was very professional. Excellent Service!
"