Whether you're looking for an energy–efficient alternative to a tank water heater, or simply want to keep your existing system in line with repair and maintenance, we are happy to provide excellent tankless water heater services, including new installation and replacementsas well as repair and maintenance. We can make sure that you have everything you need to keep the hot water flowing throughout your home.
It's no surprise that we have built up our reputation with hard work and a customer service oriented approach over the years. We have been recognized by organizations like the Better Business Bureau and Angie's List, and all of our work is guaranteed. We know how important it is to have an excellent hot water supply, and tankless water heaters are a great option for many households.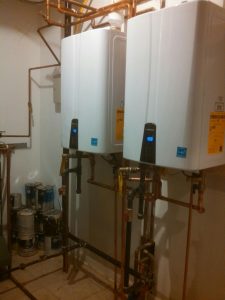 What Is a Tankless Water Heater?
Unlike a conventional tank water heater, a tankless model foregoes the need to store hot water continuously. While this is one of the strengths of a tank water heater in that there are gallons upon gallons of hot water available for use, it is also one of its detriments. Keeping that amount of hot water adjusted to a specific temperature requires a significant amount of energy and this often means that your energy bills are much higher than with a tankless system, which uses a powerful heat exchanger to heat water on–demand. This means that the supply is limited only by the availability of water. We can help find you a tankless water heater that integrates well into your home.
Tankless Water Heater Installation
When it comes to the installation of any plumbed appliances, whether starting from scratch or as a replacement model, it needs to be taken care of by a professional plumber. That's simply the only way you can rest assured that it's done right the first time. Our tankless water heater technicians can make sure that you get the most out of your new tankless system. Whether you currently have a tankless system or are thinking about upgrading from your tank model, take advantage of our tankless water heater replacement service.
Tankless Water Heater Repair and Maintenance
Does your tankless water heater fail to provide you with sufficient hot water? Does it make a strange sound during operation? Does it leak? While they tend to last longer than conventional tank models, tankless water heaters are just as susceptible to mechanical issues. We provide excellent tankless water heater repair services and we can fix anything that may go wrong with your hot water supply. Moreover, we also offer routine tankless water heater maintenance so that you can improve system longevity and restore performance levels. Call our plumbers today!