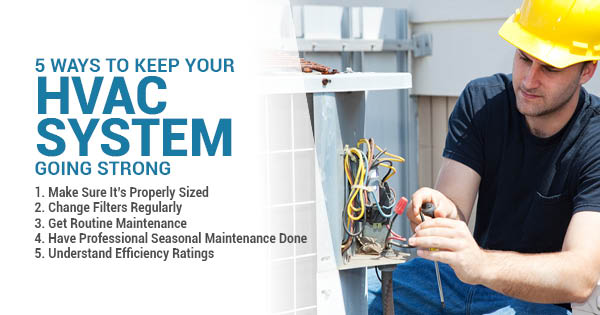 You probably don't think much about it, but you use your heating and cooling system (or your HVAC system) daily to either heat or cool your home. As the seasons and the temperatures change, your system can undergo a lot of wear and tear that can hurt even top rated HVAC systems. You shouldn't ignore this until its too late and you're calling a local HVAC company or HVAC repair contractor.
You should try to get the most out of your system by putting together a plan to take care of it, and you can start with a few easy things:
Make Sure It's Properly Sized
You need to make sure that you have the proper size for your unit and your capacity needed. A unit that is over capacity will not be as energy efficient, while an undersized one will result in uncomfortable temperatures, especially during climate extremes.
Change Filters Regularly
Energystar.gov encourages homeowners to change filters on the regular — at least once every two to three months. This can help keep your air quality pure and clean and keep you from getting sick. Clogged filters can also damage your system's parts and result in costly repairs. You should check it at monthly to keep up to date on its status.
Get Routine Maintenance
Even top rated HVAC systems need routine maintenance to keep them in the best condition, and you need to do your part in this. Inspect wiring for any damages caused by wild animals and sweep away yard debris and similar things.
Have Professional Seasonal Maintenance Done
Preventative maintenance contracts are usually some of the best things that you can do for your HVAC unit. They should be scheduled semi-annually and should be viewed as a proactive approach to taking care of your system. Contact HVAC service companies to get the best plans for your unit.
Understand Efficiency Ratings
When making an investment in your air conditioner, furnace, or heat pump, you should inquire about the efficiency rating. This can tell you how that unit will utilize fuel and energy sources, and how much of an increase or decrease in costs per month you can expect.
These are just a few ideas of what you can do to keep your HVAC unit in the best condition for the longest time. If you have further questions or want to make a professional maintenance plan, contact us. We'll be glad to help.