Is it Wise to Install a Mini Split System in Dundee, Illinois?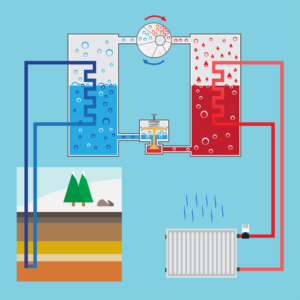 Of all the heating and cooling options available, the mini split system is perhaps the most intriguing. Not only is it a rather new technology, it also possesses capabilities that other heating and cooling options do not.
You might be wondering, "is it wise to install a mini split system in Dundee, Illinois?" For some, the answer is 'yes'. For others, the answer is 'no'. To determine whether or not a mini split system is the right option for you, you will likely need to consider many different factors.
Below, we'll discuss both the benefits and drawbacks of mini split systems. This should help you to determine whether or not you should opt for a mini split system.
What are the Benefits of a Mini Split System?
When it comes to mini split systems, the benefits far outweigh the cons. Below, we'll discuss those benefits in detail.
Provides Both Heat and Cold
Want to do away with your furnace and air conditioner, and replace them both with just one appliance? If so, a mini split system is the perfect option.
Did you know that mini splits can provide both heating and cooling for your home? In addition to providing you relief from the blistering summer heat, mini splits will also provide you relief from the winter cold. There is no other appliance currently on the market capable of doing both.
Energy Efficient
Compared to air conditioners, furnaces, and other climate controlling appliances, mini splits require relatively little energy. While they utilize some electricity, the amount of electricity they use pales in comparison to the amount used by ACs.
The benefit of this low-energy usage is fairly simple. Lower energy usage equals lower costs on energy bills. In essence, by installing a mini split system, you can save money in the long run.
Very Quiet
The indoor and outdoor components of mini split systems are extremely quiet. In fact, they are significantly more quiet than standard AC units or furnaces.  In essence, mini split systems shouldn't disturb your peace of mind at all.
Exceedingly Safe
Because they don't make use of gas, and because they require very small amounts of electricity to run, mini splits are an extremely safe option. As long as you use them as they are intended to be used, you shouldn't run into any problems.
Ideal for Areas in Your Home or Business that Are Hard to Cool or Heat
Many homeowners and businesses utilize mini split systems in areas that are difficult to cool or heat. Rather than starting from scratch with an entirely new AC system or furnace, mini split systems are used to supplement the current system in an effort to address problem areas.
What are the Downsides of a Mini Split Systems?
While mini splits don't have a huge number of downsides, their few downsides might be deal-breakers for you. We'll discuss those downsides below.
Can Struggle in Extreme Cold
The bad news is that mini splits sometimes struggle when the weather gets exceedingly cold. Unfortunately, this could be a problem in places like Dundee, Illinois.
While your mini split would have no problem keeping your home warm when it's 30°F or even 20°F outside, it could potentially struggle when the temperatures start to creep around 0°F.
Complex Installation Process
Another potential problem with mini splits is that they can be difficult to install. In order for them to run efficiently, they must be positioned in a way which allows them to easily take in air. If they are not positioned in this specific manner, they will likely require excess amounts of energy in order to operate.
Looking to Install a Mini Split in Dundee?
Have you made your decision? Interested in installing a mini split in Dundee? If your answer is 'yes', we here at Lifeline Plumbing, Heating & Cooling are the people to see.
Our heating and cooling technicians are highly experienced in the installation, repair, and maintenance of all types of mini split systems. We'll have yours set up in just a short time.
Contact us today for a free estimate!