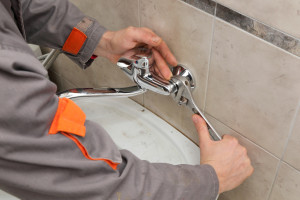 One of the worst scenarios every homeowner dreads is indoor flooding. Indoor flooding is a big problem in itself, but then it can also cause a whole slew of damage once it's fixed. The good news is that emergency plumbing services are only a call away to come help you before your indoor flooding problem becomes a disaster.
But what causes homes to flood in the first place? After all, if you haven't had an indoor flooding incident before, you'll want to be prepared to keep it from happening in the future. Below are some of the most common problems that plumbers see when it comes to indoor flooding.
Clogged sinks
Possibly the number one cause of many indoor flooding incidents are clogged sinks. Although a clog can sometimes allow for water to continue to drain, your sink can still overflow if you forget about the slow drainage. The best way you can help to avoid an indoor flooding problem caused by a clogged sink is to fix the clog as soon as you begin to notice the water draining slowly. A plumbing repair company will be able to fix the problem a lot faster the earlier the problem is detected. Additionally, the earlier you detect a problem the more likely you'll be able to save money; homeowners can save up to 10% on their water utility by fixing household water leaks early on.
Clogged gutters
It's typically recommended that homeowners clean their roofing gutters at least twice a year. This is because when debris and leaves build up in your gutters, the water it's meant to drain, well… doesn't drain. Instead, it builds up, backs up, and overflows onto your roof, your foundation, and finally the inside of your house. This can result in molding as well as indoor flooding. Therefore, be sure to keep your gutters clear and regularly cleaned.
Clogged drain pipes
If the water in your shower, toilet, or sink refuses to drain there may be a problem with your main drain pipe. Depending on the size of the clog, you may need a professional plumbing contractor to swing by and remove it. A plumbing contractor can use a mechanical snake to remove the clog from your main drain pipe.
Indoor flooding is something no homeowner wants to deal with, which is why it's so important to know the early signs of a sink, gutter, or drainage clog. Early detection and routine maintenance performed by a professional plumbing contractor can keep a plumbing problem from becoming a plumbing disaster.