Lake Zurich, IL Plumbing, Heating and Air Conditioning Repairs and Installations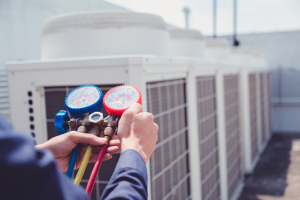 Lifeline Plumbing, Heating & Cooling is a one-stop shop for all your HVAC service and plumbing needs in Lake Zurich, Illinois.
In this post, we'll discuss the services offered by Lifeline, along with the different types of repairs that are available for your HVAC unit.
Lake Zurich, IL Plumbers
Are you looking for a plumber in the Lake Zurich area? If so, Lifeline has a dedicated team of highly skilled and licensed plumbers who are committed to getting the job done in a prompt and professional manner. We can help in diagnosing and repairing any plumbing-related issue you may have.
Heating Services in Lake Zurich, IL
At Lifeline, we offer a wide range of heating systems for replacement and installation. The different types of heaters include not only gas and electric run furnaces and boilers, but also geothermal and radiant heating systems. Additionally, we also provide service and maintenance plans for heaters to ensure that your home remains warm throughout the winter season.
Lake Zurich, IL Air Conditioning Services
Do you need to have your AC unit repaired? We can repair any issues related to your AC unit — from minor dirt accumulation to severe refrigerant leaks.
In addition to air conditioning servicing and repair, we can address any issues with your overall HVAC unit. This could include any of the following:
Compressor issues: The compressor is the heart of the AC unit. Its function is to pressurize the refrigerant so that heat exchange takes place effectively. It can be subjected to various electrical and motor issues that need to be addressed immediately.
Fan problems: Air conditioner fans are present both in the indoor, as well as the outdoor unit. Rotating parts such as belts, motors, and blades need to be inspected regularly in order to detect any problems.
Boiler and furnace issues: The boiler and furnace are parts of the HVAC unit that are most active during winter. If your unit is relatively new, and if you're facing problems with the boiler or the furnace, a quick replacement part might do the trick. However, if the unit is old, it might require the entire system to be replaced.
Ductwork: Annual ductwork cleaning is essential to avoid air blockage and prevent any mold or mildew growth. This should be a part of your annual HVAC maintenance and service plan.
Clogged filters: A clogged filter can affect airflow drastically. It's important that these filters are replaced at regular intervals.
Thermostat: The thermostat needs to be checked to ensure that it is working accurately. A faulty thermostat can cause the HVAC system to overload and waste energy.
Heating and Air Conditioning Maintenance Tips
As we knock out our spring-cleaning chores, it's also important to ensure that the outdoor unit of the HVAC system (the condenser) is cleaned of all branches, leaves, dirt, and debris. This will ensure that the AC unit is ready to jumpstart when the temperature rises.
Additionally, the HVAC unit also has other components that need to be inspected, serviced, and maintained to ensure that they will function properly when the system is cranked up.
Heating, Air Conditioning and Plumbing Contractor in Lake Zurich, IL
Have you scheduled spring maintenance for your HVAC system? Have you noticed any problems with your plumbing system? In either case, if you need an experienced HVAC or plumbing repair company in Lake Zurich, Lifeline is the company to call.
Lifeline Plumbing, Heating & Cooling has the answer to meet all your requirements. Our team of highly trained and certified technicians can get your HVAC unit professionally serviced and repaired in no time.
Contact us today to schedule an appointment!