Heating, Air Conditioning and Plumbing Services in Itasca, Illinois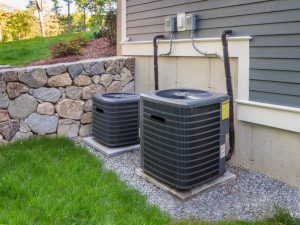 Are you concerned about your air conditioner's performance? Does your home need a heating and air conditioning maintenance plan to ensure year-round comfort? Are you looking for a reliable go-to Itasca heating and air conditioning contractor for your office space?
Lifeline is your one-stop-shop for all of your heating and cooling requirements. Moreover, we also offer top-notch plumbing services throughout the Itasca area. Our experienced professionals are highly skilled and trained to handle a wide range of heating, air conditioning and plumbing equipment.
In this post, we'll discuss the various services offered by Lifeline Plumbing, Heating & Cooling in Itasca, and we'll also cover some common reasons why your air conditioner might breakdown.
Itasca, IL Plumbing Company
Are you looking for a Itasca, IL plumber to fix a leak or facilitate a new water line installation in your home? Lifeline has a team of experienced plumbers who can get the job done right for you. Our team not only specializes in repairs and maintenance, but we are also experts at installing brand new plumbing systems. We can diagnose the root cause of a plumbing problem, find where it is located, and have it fixed in no time!
Heating Services in Itasca, IL
One of the most important pieces of equipment that you'll need to have functioning day in and day out during the winter months is an effective heating system. At Lifeline, our technicians are highly experienced in the installation and repair of all different types of heaters, including radiant heating systems, geothermal systems, and ductless mini splits. We also specialize in boilers, gas furnaces, and electric furnaces. In addition, we offer regular maintenance plans and emergency services to keep you comfortable all throughout the year.
Itasca, IL Air Conditioning Services
At Lifeline, we also offer expert service, maintenance, and repairs for all types of air conditioners. In the majority of the cases we see, most air conditioner issues can be repaired. That being said, there are a few common factors that could lead to or cause your air conditioner to breakdown. These are listed below:
Low refrigerant levels: The refrigerant is a liquid that flows between the coils and is responsible for heat transfer. If your unit drops to lower refrigerant levels, it will not be able to cool your home properly
Maintenance negligence: Annual maintenance is important for the overall performance of your air conditioner. Neglecting maintenance will not only void the manufacturer's warranty, but it can also cause your AC unit to fail
Frozen coils: If air filters are not replaced regularly, or if the ductwork is not maintained, it can lead to problems with airflow. This, in turn, could cause the coils to freeze
Faulty fuse or circuit breaker: A faulty circuit or fuse could lead to air conditioner failure. In this case, it is best to call an electrician to immediately resolve the issue
Faulty thermostat: If your thermostat is malfunctioning, it can cause your air conditioner to cycle on and off sporadically
If you find your AC unit malfunctioning or not working at all, it is best to call an HVAC professional to inspect and/or repair the unit.
Heating, Air Conditioning and Plumbing Services in Itasca, Illinois
Are you looking to have your air conditioner repaired or replaced in your Itasca home? Do you need a qualified plumber to inspect your plumbing system? In either case, the professionals at Lifeline are here to help.
Lifeline Plumbing, Heating & Cooling has the expertise to meet all your requirements. We have a team of licensed and highly skilled experts who can get your HVAC or plumbing systems repaired, serviced, and functional.
Contact us today to schedule an appointment!