Cary, Illinois Heating, Plumbing, and Air Conditioning from Lifeline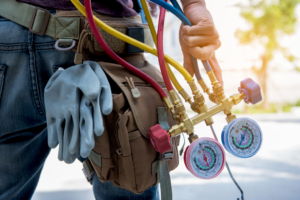 If you're inexperienced when it comes to plumbing and HVAC matters, they can be very complex and difficult. For this reason, if you need this type of work done around your home, it's wise to hire a professional.
Lifeline Plumbing, Heating, and Cooling is the premier provider of HVAC and plumbing services in Cary, Illinois. Offering installation, maintenance, and repairs, our team of highly skilled and experienced technicians has helped thousands of home and business owners throughout the Cary area.
Experience-Backed Plumbing Services
There are a number of things that need to be running at full capacity in order for your plumbing system to operate efficiently. Should one of these components malfunction, the operation of your plumbing system could be compromised.
When a situation like this arises, there's only one thing to do: call a plumber. Lifeline offers the premier plumbing services in Cary and its surrounding areas, providing customers with top-notch installation, maintenance, and repair.
It doesn't matter whether you're dealing with busted pipes, a clogged drain, or the installation of a new toilet. Our team has the experience, the skill, and the expertise needed to solve any plumbing problem.
Is Your Garbage Disposal in Need of Repair?
While they're extremely useful appliances, garbage disposals are prone to problems. Because they are subject to so much wear and tear, it is not uncommon for them to break down. In the event that your garbage disposal encounters any type of problem or stops operating, Lifeline will be there to help!
Heating Repair and Installation
The only way to get through the brutal Cary, Illinois winters is by having a heating system in your home. Furnaces and boilers, in particular, are the systems of choice for many northeastern Illinois residents.
Here at Lifeline Plumbing, Heating, and Cooling, we not only install furnaces and boilers, but repair and maintain them as well. Our team of seasoned and skilled HVAC technicians has been responsible for the well-being of hundreds of heating systems throughout Cary. We will gladly take care of yours as well.
However, we aren't limited to just furnaces and boilers. We also have a wealth of experience in installing, maintaining, and repairing heat pumps, ductless mini-split systems, and radiant heating systems.
Is Your Furnace Not Getting the Job Done? In Need of Furnace Repairs?
If your furnace sputters or doesn't produce adequate heat, it likely requires professional attention as soon as possible. The HVAC technicians with Lifeline will inspect your furnace, diagnose any existing problems, and take action against those problems, making repairs and replacements as needed.
Air Conditioning Services in Cary, Illinois
In the summertime, Cary temperatures can reach as much as 100°F. This is why most Cary residents want to make sure their AC units are working properly. While they are built to last, air conditioners are still capable of encountering problems and will occasionally require repairs. When problems arise, it's generally recommended that you have your air conditioner looked at by a professional.
If you need assistance, Lifeline Plumbing, Heating, and Cooling can help. Thanks to our team of highly-skilled HVAC technicians, we have repaired numerous air conditioners throughout the Cary area.
However, we don't just repair air conditioners. We also install and maintain them. Utilize our services by calling Lifeline today!
Professional HVAC and Plumbing
Whether your repair needs involve air conditioners, furnaces, or toilets, Lifeline Plumbing, Heating, and Cooling can help. As the top plumbing and HVAC service company in Cary, Illinois, we have assisted a countless number of satisfied customers.
Our seasoned technicians are beyond experienced in repairs, maintenance, and installations, allowing us to handle all of your HVAC and plumbing needs with ease.
Contact Lifeline by calling (847) 468-0069!